Event Navigation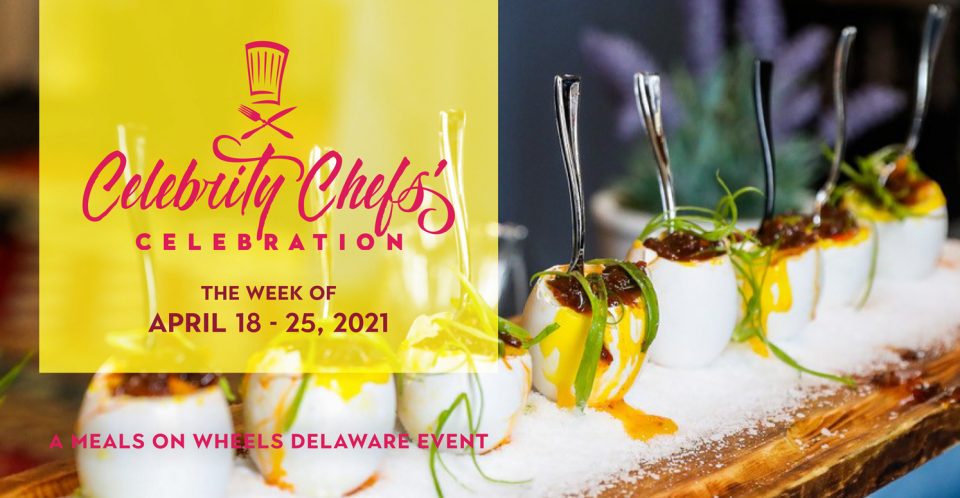 Celebrity Chefs' Celebration
Sunday, April 18, 2021

This event runs from April 18th to April 25th

Celebrity Chefs Celebration is a new hybrid format event for 2021.
Celebrate local restaurants, and support the efforts to feed seniors in need. Enjoy a special menu from a Guest Celebrity Chef, prepared for you by and in collaboration with partner local chefs and restaurants. Guests can dine-in or take out from the restaurant of their choice. Tickets to the Celebrity Chefs' Celebration include access to a virtual program. Purchase tickets by April 9, 2021 to guarantee a reservation. 
CELEBRATION VIRTUAL AUCTION
The Virtual Auction begins on Sunday, April 18 at 3:00 pm and ends on Sunday, April 25 at 4:00 pm. Happy bidding!
Preview Virtual Auction:

To receive reminders leading up to and during the auction register now by texting phone number 243725 with text message ccc21!
Virtual Auction CCC Bidding Instructions 2021
Featured Lots: #2 Personal Chef Dinner for 6 with wine pairing delivered to your home! | #3 Oil On Canvas! By Ralph Della-Volpe | #7 Fully stocked Wine Cooler | #12  Bangle in Morse Code "I Love You" | #20 Outdoor heater for deck | #34 One of a kind print by Mitch Lyons
---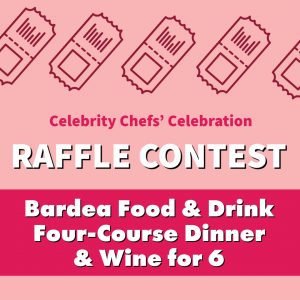 Four-Course Dinner and Wine for 6 from Bardea Food & Drink
Bardea Food & Drink's Executive chef Antimo DiMeo will curate a culinary experience for 6 guests. Enjoy four-courses of Italian Classic Cuisine created by a James Beard nominated restaurant in Delaware! Each course has been hand-selected with a wine pairing.
Valid until October 31, 2021. Restrictions: Must know allergies or dietary restrictions | Winner must give the restaurant 2 weeks notice of redemption.
To Buy Raffle Tickets: Click Here or on the Buy Tickets buttons
---
Join Our Virtual Program | Sunday, April 18 at 3:00pm 
Sponsored by Bank of America
The virtual program offers the chance to interact with the local and Guest Celebrity Chefs (see here) as well as enjoy a Sagamore Craft cocktail demo by Mixologist Brian Burnett and entertainment by What the Funk.
Your Celebration ticket is your access to the virtual program. Purchase the ingredients to prepare a Sagamore cocktail along with our mixologist. Come camera ready to ask the chefs questions and share your photos!
VIRTUAL PROGRAM HOSTS
ENTERTAINMENT & CRAFT COCKTAIL DEMO
What the Funk! Band
Musical Performace

Sagamore Craft cocktail demo
by Mixologist Brian Burnett
Add event to calendar
View Our Program Book
Learn about MOWD, the Celebration event, Celebrity Chefs and view exclusive recipes!

---
| | |
| --- | --- |
| Local Chefs | Virtual Guest Chef Partners |
Special Menu Available: April 25 | 5-9pm
Dine-In & Takeout
Mixed Sweet Peas & Carrot Salad: heirloom carrot variations, orange-carrot vinaigrette, pea tendrils, soft herbs, sumac, sunflower seed & puffed wild grains.
Roasted Colorado Lamb Saddle: morels, asparagus, black truffle hollandaise
Strawberry & Rhubard Compote: balsamic beet meringue, yogurt sorbet, pistachio soil, toasted marshmallow
Cocktail Option 1: La Banca Manhattan Bulleit Rye Whiskey, Capano Antica Sweet Vermouth, Bitters
Cocktail Option 2: A glass of Zenato Valpolicella Superiore 2017 Italy
---
Michael DiBianca
Ciro Food & Drink
321 A. Justison Street
Wilmington, DE 19810
(302) 543-6071
John Tesar
Knife
Dallas, TX
Special Menu Available: April 23-24 | Limited Seating
Dine-In & Takeout
Three Meat B-Ball: "parmesan style" paired with a spicy marinara sauce
Steak Au Poivre: A strip loin steak coated in cracked peppercorns
Salad with Perfect Vinaigrette
Fries
Dessert: Red Wine & Mascarpone
Cocktail: Coming Soon
---
Special Menu Available: April 21 | 5:30 and 7:45 seatings
Dine-In Only 
Causa Puri: Amarillo potato, charred octopus, avocado hilbeh, cilantro, green onion, confit garlic tomato red bell essence
Lamb Barbacoa: Braised lamb, endive leaves, serrano cilantro verde, pickled golden raisins, smoked cocoa nibs, green onion, cilantro, corn tortilla dust
Pastrami Roasted Beets: Smoked apple sauce, rye hazelnut crumble, sauerkraut caramel, dijon crema, celery, pea shoots
Cocktail: Masala fog
---
Tom Hannum
Buckley's Tavern
5812 Kennett Pike
Centreville, DE 19807
(302) 656-9776
Michael Blackie
NeXT
Stittsville, Ontario
Special Menu Available: April 21-24 | 5 – 9pm
Dine-In Only
Smoked Haddock with double-smoked bacon chowder
Dark & Stormy Pork Belly with pepper gouda sage grits, cucumber fennel kimchi, crushed cashew
Spiced Molten Milk Chocolate Cake with peanut caramel
Cocktail: Goslings Rum Spicy Stormy
---
Special Menu Available: April 25 | 12pm Limited Seating
Dine-In Only
Spinach & Frisée Salad: Pepper-crusted pork belly, compressed apples, egg, toasted pecans, Maple-Dijon vinaigrette
Shrimp & Grits: Anson Mills heirloom grits, andouille sausage, tomatoes, bell peppers, scallions, white wine butter sauce
White Lily Sweet Biscuits: Boone Hall Plantation strawberries, cream anglaise, raspberry sauce, whipped cream
Cocktail Option 1: Absolut Peppar Bloody Mary House-made bloody mary mix, pickled okra & green bean garnish
Cocktail Option 2: Classic Mimosa Dibon Cava & orange juice
---
Susan Teiser
Montrachet Fine Foods
5800 Kennett Pike
Centreville, DE 19807
302-425-5808
Jennifer Behm-Lazzarini
MasterChef Season 2 Champion
Special Menu Available: April 21-24 | 6pm Limited Seating on Thursday & Friday ONLY
Dine-In & Takeout
Vietnamese Spring Rolls: shrimp, banh mi sauce, fried shallot, rice noodles, radish, and cilantro mint
Stuffed Quail: chorizo & dried cherry, bourbon cherry glaze, pork belly wrap. Parsnip Puree with chimichurri & lemon edamame succotash with HG's corn
Pot Du Creme with guava curd, lemon curd, whipped cream, candied lemon rind
Non-Alcoholic Mocktail: Centreville Mocktail with lavender simple syrup, fresh lime juice and Peychaud's bitters. Provided pre-made, to-go. Please add ice at home, or ice and gin or vodka in a shaker and serve in a martini glass.
---

---
Marquee Sponsor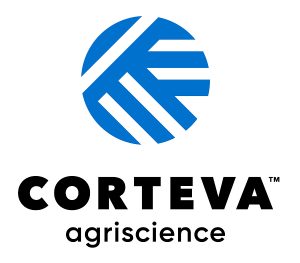 ---
Lead Sponsor


---
Marquee Communications Sponsor


---
Platinum Sponsors
---
Virtual Program Sponsor

---
Visual Production Partner

---
Gold Sponsors
---
Silver Sponsors
---
Bronze Sponsors
---
Patron Sponsors
| | | |
| --- | --- | --- |
| CSC | Highmark Delaware | Patricia & Greg Schulze |
| Delmarva Power, an Exelon Company | Carol Arnott-Robbins | Wilmington University |
---
Add event to calendar