Event Navigation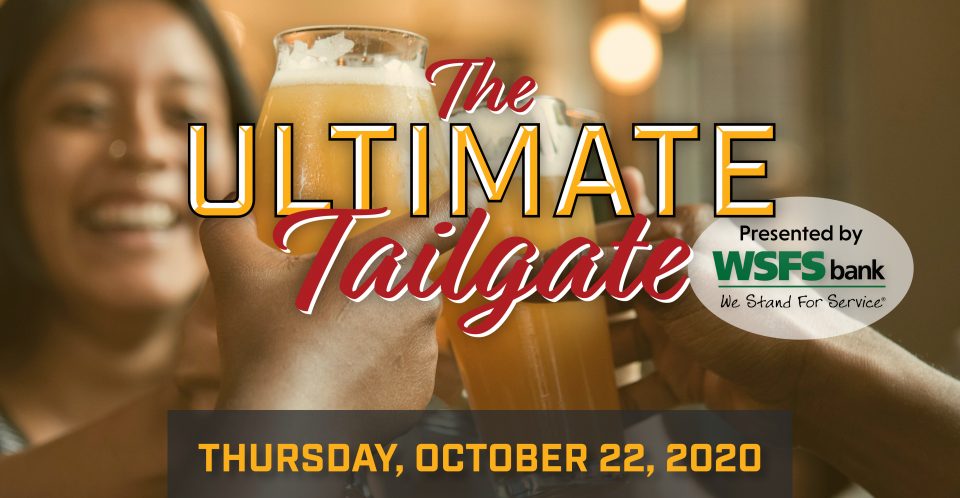 The Ultimate Tailgate (Homegate!)
Thursday, October 22, 2020
5:00 pm – 9:00 pm
October 9, 2021 @ 6:00 pm – 10:00 pm


Meals On Wheels Delaware presents The Ultimate Homegate! fundraiser on Thursday, October 22th from 5:00pm – 9:00pm, presented by WSFS Bank!
Due to the pandemic, we are modifying the 2020 Ultimate Tailgate to ensure the safety of our guests, sponsors, and partners.
Celebrate tailgate season and join us for a night of your favorite tailgate dishes while supporting the local restaurant community.
The "Ultimate Tailgate" meal for two is a take-out or dine in prefix option, which includes a specialty cocktail or craft brew or bottle of wine for two. Pick up your tailgate package on October 22 and enjoy the game in the comfort of their home or favorite restaurant. Reservations required for dine in.
VIRTUAL AUCTION
Our generous community has donated fantastic items to our online auction. Bid on these incredible items in support of Meals on Wheels Delaware and homebound seniors. Featuring a variety of rare beer packages, wine assortments from around the world, flat screen TV with sound bar, cornhole set, restaurant gift cards and more!
Preview Ultimate Tailgate Virtual Auction:


or text the number 243725 with message UT2020
Auction opens for bidding on Wednesday, October 21 at 5pm and closes on Friday, October 23 at 5pm. 
 VIEW PROGRAM BOOK

Participating Restaurants to Date
---
Caffe Gelato
90 E. Main Street
Newark, DE  19711
302-738-5811

Choice of Entree:

Pistachio Encrusted Chicken, Chicken Saltimbocca, or Meat Lasagna – all come with a Garden salad, garlic bread and chocolate brownies

Drinks: Choose one bottle of wine: Josh Cellars Cabernet, Clancy Red Blend, Chateau Bonnet Bordeaux, Hob Knob Chardonnay, Kunde Sauvignon, or Chateau St Jean Rose
---
Ciro Food & Drink
321 A Justison Street
Wilmington, DE 19801
302-543-6071

Tailgate Dinner for Two; Three Course Meal

First course, pick one: Two Big Barbeque Burgers; Kobe Burger with pork, fried onions, pickle and cajun mayo; or one full Barbeque Rack of Ribs.

Second course, pick two: Truffle Fingerlings; Mac & Cheese; Spicy Coleslaw; Watermelon Feta salad; Classic Caesar salad; or House Romaine Wedge

Third course, pick one: Chocolate Tart; Strawberry Shortcake; Carrot Cake

Drinks:  Stateside Vodka specials. Guests get 10% off at Veritas
---
Deer Park Tavern
108 W Main St
Newark, DE 19711
302-369-9414

Meal: 

One dozen Buffalo Wings with celery and blue cheese; two Bacon Cheeseburgers with American cheese, lettuce, tomato and onion; potato chips, Mac & Cheese

Drinks: Four-pack of Miller Lite; Coors Light or Bud Light
---
2015 Concord Pike, Wilmington, DE, 19801;
302-888-2222
45 East Main Street, Newark, DE, 19711;
302-369-0600
1819 Pennsylvania Ave, Wilmington, DE, 19801;
302-777-3278
309 Auto Park Drive, Middletown, 19709;
302-314-9500

Meal: Grotto Bruschetta, large Antipasto salad, any large specialty Pizza

Drinks: Bottle of wine (Pinot Grigio, Chardonnay or Merlot)

Note: This is for two people only; no substitutions.
---
Klondike Kates
158 E. Main Street
Newark, DE  19711
302-737-6100

Meal:

 Small Kate's original Nacho to share; two sandwiches or burgers of your choice

Drinks: Two draft beers
---
Metro Pub & Grill
17 Wood Street
Middletown, DE 19709
302-376-3876

Pick one small plate

 – Buffalo Cauliflower; Cheeseburger Eggrolls; Pretzel Bites

Pick two sandwiches – Sirloin Burger; Southern Chicken Sandwich; Turkey Tenderloin Club

Drinks: Blueberry Lemon Refresher; Cherry Express
---
Tonic Seafood & Steak 
111 West 11th Street
Wilmington, DE 19801
302-777-2040

1st Course:

  House salad

2nd course, choice of entree: Hanger Steak entree with mashed potatoes, haricot verts, and demi-glace; or Pan-seared Salmon with red quinoa, roasted trumpet mushrooms, pomegranate reduction, and pea emulsion.

Drinks, choice of beer from our Kennett partnership Braeloch Brewing: 1 pint of Grace Brewster Hopper, New England Style IPA, 5.8% ABV; or 1 pint of Honey-Moon Passion, Honey Golden Ale, 6.8 AB
---
Two Stones
1203 Christiana Road
Newark, DE 19713
302-294-1890

Ultimate Homegate for Two – Take Out Only

Meal: Stacked Nachos with chorizo, pulled pork, jalapenos, queso blanco, cheddar jack, pico, black beans, smoked tomato & avocado crema, chipotle sauce, and scallions;

One dozen Jumbo Wings, buffalo or sweet heat with blue cheese and celery;

Four Philly Roast Pork Sliders with sharp provolone, broccoli rabe and pork jus on potato rolls;

Mexicali Chorizo Tacos with corn & black bean salsa, queso fresco, lettuce, avocado crema and cilantro.

New York Cheesecake for two

Drinks: 2SP Brewing Co. six pack
---
PRESENTING SPONSOR


---
MARQUEE SPONSORS
---
HEAD COACH SPONSORS
---
MARQUEE COMMUNICATION SPONSORS
---
HALF TIME SPONSORS
---
MASCOT SPONSORS
---
TAILGATE SPONSORS
| | | |
| --- | --- | --- |
| George & Lynch, Inc. |  GFP Cement Contractors | Senior Comp Fix |