Event Navigation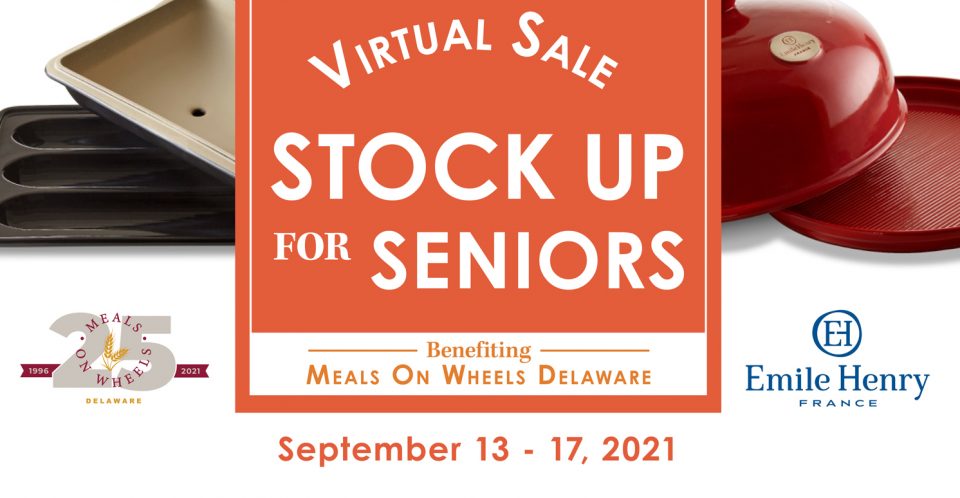 Friday, September 17, 2021
5:00 pm – 5:00 pm
This event runs from Monday, September 13, to Friday, September 17

Stock Up For Seniors is Virtual for 2021 with special early holiday shopping. Shopping hours & exclusive deals from 8:30 am on Monday, Sept. 13th to 5:00 pm on Friday, Sept. 17th. Tickets are $35. 

This is an Emile Henry sale event; 100% of ticket sales benefit Meals on Wheels Delaware.
Guests will enjoy exclusive online Stock Up for Seniors deals available during this week only (Sept 13-17).
Receive 35% off premium brands across the Emile Henry brands — regular priced products with a special Meals on Wheels Delaware (MOWD) deals section for disc/overstocks.
Your purchases will be shipped from the Emile Henry Warehouse in New Castle, DE, within 2-3 weeks of the event; all orders will ship by 10/15 for the warehouse show.
Onsite pickup is not an option.
All Sales Final for products purchased during the Warehouse Sale. No Returns. Due to the volume of orders, we are unable to change or alter your order after it has been placed.  No additional discount allowed with the MOWD discount code.
Prior to the sale contact:
From Meals On Wheels Delaware
Regina Dodds – rdodds@mealsonwheelsde.org or Anne Love — alove@mealsonwheelsde.org
If you experience any technical issues during the Virtual Sale contact:
From Emile Henry (during business hours only) Monday – Friday 8:30AM – 5:00PM EST
Tara Steffen tsteffen@eh-usa.com
Free Shipping will be for:
Factory Outlet section with special items for MOWD