Make a gift that costs nothing during your lifetime.
Enjoy a closer connection with Meals On Wheels Delaware as a member of our Legacy Builders Society.
Please consider making a gift today to help plan for tomorrow
Many of our elderly neighbors are eagerly waiting for a lunchtime knock on their door. They know behind the knock and cheerful greeting of "Meals On Wheels" is someone who oftentimes becomes a trusted friend carrying a meal they can depend on.
Unfortunately due to illness, disability, financial hardship or advancing years these vulnerable seniors are unable to shop or prepare meals for themselves. When asked about the Meals On Wheels program they responded overwhelmingly that the meals and personal contact made a positive impact on their quality of life. Over 90% said Meals On Wheels made them feel more secure and meant they could continue to live in their own homes.*
We, at Meals On Wheels Delaware, are proud of our part in the tradition of caring for those who have given much and are in need of a helping hand in their later years. Since our formal charter in 1996, we have focused on ensuring these men and women can continue to feel secure about their next meal.
As someone who is passionate about the continued well-being of all seniors, we ask you to join our Legacy Builders Society.
Choose the gift that is right for you
Including Meals On Wheels Delaware as a beneficiary of your will, trust, life insurance policy or retirement plan ensures that those you care for now will continue to be in good hands in the future.
Choosing the right gift brings the comfort of knowing it fits your budget and peace of mind that you can adapt to changing circumstances if necessary.
Make a gift through your will or trust
Also called a bequest, you can give a fixed amount or percentage of your estate to Meals On Wheels Delaware by including language similar to example below.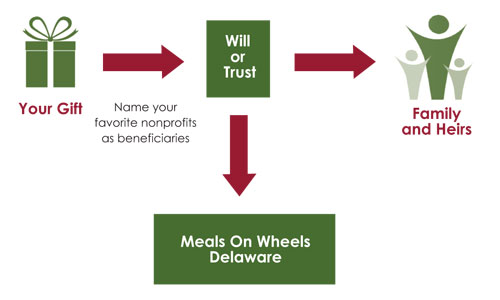 Sample Language
I hereby give, devise and bequeath to Meal on Wheels Delaware, Inc. a dollar amount (or percentage of the rest, residue and remainder of my estate) as an unrestricted gift to be used in the area of the greatest need.
If you have an existing will you can easily add an amendment, called a codicil, naming Meals On Wheels Delaware as an additional beneficiary.
Make a gift from your retirement account
Together, estate taxes and income taxes may substantially diminish an inheritance from a traditional IRA, 401(k) or 403(b). Donating a retirement plan to charity is tax free and can be beneficial to maximize total inheritable assets with less tax burden to heirs.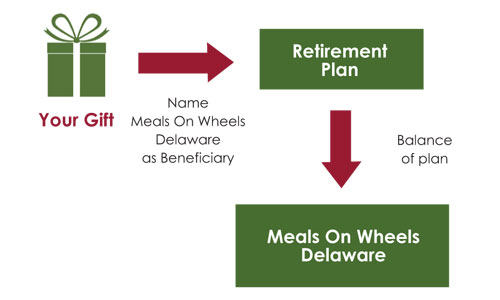 For advice on additional ways to plan a gift to Meals On Wheels Delaware contact the Delaware Community Foundation, at www.delcf.org
Benefits of Joining the Legacy Builders Society
Tickets to a selection of Meals On Wheels Delaware premier events
VIP entry to Meals On Wheels Delaware events with exclusive access and priority parking
Invitation to donor recognition events
A lapel pin to thank you for your commitment as a member of the Legacy Builders Society
Recognition, with your permission, in our newsletter, "Special Delivery"
Meals On Wheels Delaware is a registered 501(c)3 non-profit organization. Our Tax ID number is 51-0355145.
This webpage is for informational purposes, it is not intended to provide legal, tax, investment or other professional advice. We recommend you consult with a financial or estate planner before finalizing your donation.
*Survey conducted for the U.S. Administration on Aging