Event Navigation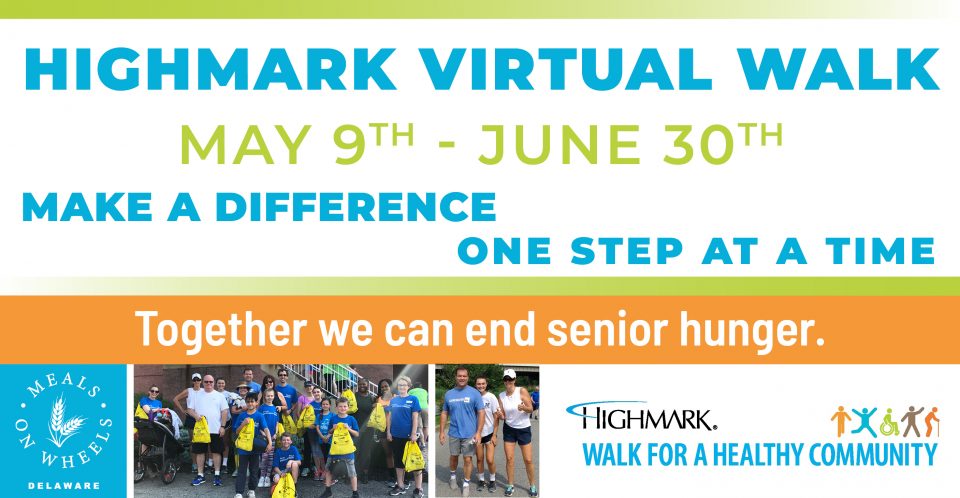 Wednesday, July 15, 2020

This virtual event runs from May 9 to July 15th.

MAKE A DIFFERENCE ONE STEP AT A TIME
Join Meals on Wheels Delaware and "Virtually" Walk for a Healthy Community and our Homebound Seniors!
The Highmark Walk for a Healthy Community is an annual fundraising walk that benefits local health and human service agencies. Meals on Wheels Delaware is excited to participate. Now more than ever it is crucial to keep our healthy homebound seniors in the comfort of their own home. Join our team or create your own team and participate in the effort to end senior hunger.
When and Where:
A virtual walk is a real walk, but it's on your terms! Anytime between May 9 and July 15, you choose how and when you walk (treadmill, park or trail, or around the neighborhood). It's your choice! You also pick the time when you start and stop!
Participation:
$15 minimum to receive a T-shirt.
One raffle ticket for every $50 raised.
Share your participation and the online donation link with your network and encourage your family and friends to donate or join the team.
Sign Up:
Click here to register as an individual or to create a team
Contact:
Regina Dodds with questions at rdodds@mealsonwheelsde.org | 302.656.6451
About the virtual walk:
Out of an abundance of caution and for the protection and safety of our Walk participants and volunteers, the difficult decision has been made to modify the 2020 Highmark Walks for a Healthy Community to an online-only fundraiser and virtual walk for this year's campaign. This modification ensures that our participating organizations are still able to fundraise, via our online platform, while not putting participants at risk of further spread of the COVID-19 virus in a mass gathering situation. This change is also in accordance with the CDC's recommendation of social distancing and avoiding mass gatherings.
Participation Fee:
This year to keep up the momentum of individual fundraising, we have lowered the minimum amount raised to receive a T-shirt to $15 before June 30, 2020. (The previous amount was $30.) T-shirts will be distributed to organizational leaders in July.
We will continue to offer one raffle ticket for every $50 raised. Raffle chances are tracked online within the individual walker milestone trackers on the Luminate online system. All donations must be credited to the individual walker account by the walk organization by June 30, 2020. Prizes will be distributed in July.