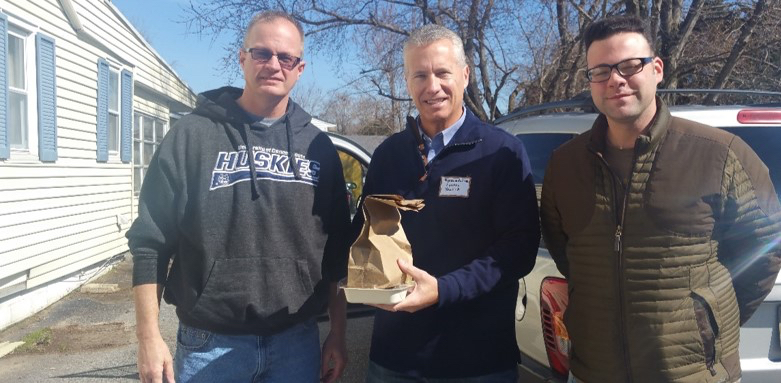 Volunteer to Drive
UPDATED COVID-19 INFORMATION – CLICK HERE
Each weekday around lunchtime, Meals On Wheels volunteers deliver much more than hot, nutritious food to area homebound seniors—nutritious meals sustain their physical strength, while dedicated volunteers bring hope for their hearts.
Consider some real nourishment on your next lunch hour; volunteer for Meals On Wheels and enjoy a lunch that's good for your heart. Volunteers are always welcome and schedules are flexible – sign up to deliver once a week, once a month, or to cover Holidays or fill in when extra help is needed.
Please contact the local Meals On Wheels program closest to you to learn more about delivering with them. They will be thrilled to hear from you and share the details on how you can help with getting the meals to those who need them most.
In Most of New Castle County:

City Fare Meals On Wheels / St. Anthony's Center
Volunteer Coordinator 
mealsonwheels@cityfare.org
302-421-3734
www.cityfare.org
Or text or call – 302-293-0008
In the City of Newark:
Newark Senior Center
Volunteer Coordinator Contact: Stefanie Thomas
sthomas@newarkseniorcenter.com
302-737-5747
www.newarkseniorcenter.com
In Kent County:

Modern Maturity Center
Volunteer Coordinator Contact: Trudie Clay 
mow.coordinator@modern-maturity.org
302-734-1200
www.modern-maturity.org
In Most of Sussex County:

CHEER
Volunteer Coordinator Contact: Tanisha Showell
tshowell@cheerde.com
302-856-5187
www.cheerde.com
In the Lewes and Rehoboth Beach area:

Meals On Wheels Lewes-Rehoboth
Volunteer Coordinator Contact
bernadette@mealsonwheels-lr.org
302-645-7449
www.mealsonwheels-lr.org
Volunteers are the hearts and hands of the Meals On Wheels programs throughout Delaware. Their caring, dedicated and generous help turns goals into realities and efforts into accomplishments.
Thank you, volunteers!
Meals On Wheels is truly a volunteer-driven agency. Thousands of caring individuals—whether they're retired, self-employed, homemakers or managing major companies—deliver nutritious lunches each day to needy seniors. Giving of their time to serve others is what makes volunteers special. They not only bring clients nutritious food but the promise of daily interaction.