Event Navigation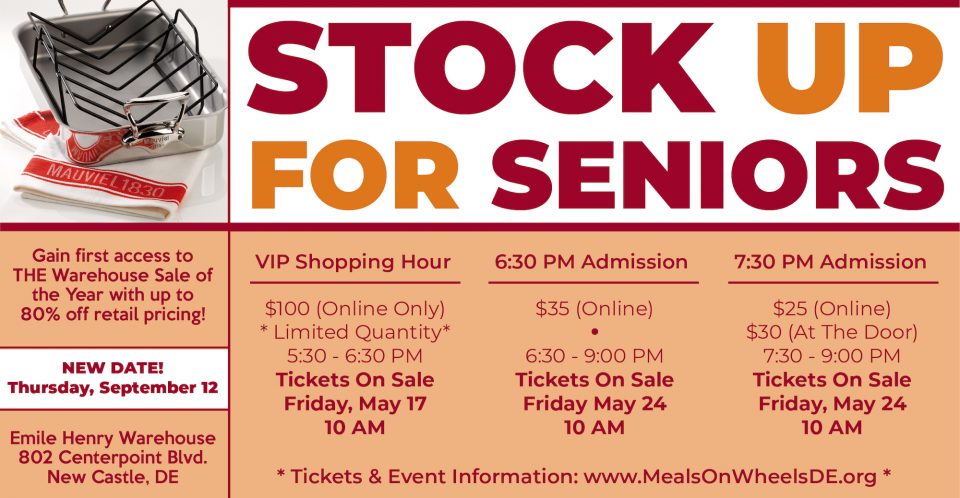 Thursday, September 12, 2019
5:30 pm – 9:00 pm
Emile Henry Warehouse
802 Centerpoint Blvd
New Castle, DE (
Map
)
Meals on Wheels Delaware celebrates its 11th anniversary of the Stock Up for Seniors fundraiser on Thursday, September 12, 2019, from 6:30 pm (VIP ticket holders enter at 5:30) till 9 pm. Emile Henry USA, the Delaware company behind the annual kitchen products warehouse sale in New Castle opens its doors to Meals on Wheels Delaware ticket holders the night before the sale opens to the public.
This special event will allow an exclusive crowd first access to the best deals on the premium European kitchenware, along with other top brands Duralex, Lékué, Mauivel 1830, and Rosle. Ticket sales as well as 5% of the proceeds from the warehouse sale will benefit Meals on Wheels Delaware.
VIP guests will enjoy chef demonstrations by Cuisinatrix and Brio Tuscan Grille, while getting first access to the weekend's deals an hour early, from 5:30 – 6:30 pm. VIP tickets are $100 and will go on sale May 17th, 2019, at 10 am.
Beginning at 6:30 pm, general admission ticket holders will be able to shop the Emile Henry Warehouse for great deals on premium cookware brands including Duralex, Emile Henry, Lékué, Mauivel 1830, Rosle, and many more. General admission tickets are $35 online only for 6:30 pm entry time and go on sale May 24, 2019, at 10am.
Tickets allowing admission at 7:30 pm are available online for $25 (or at the door for $30) and go on sale May 24, 2019, at 10am. They will also be sold at the door for $30.
VIP Shopping Hour
Guests will enjoy a private shopping hour from 5:30-6:30pm including live chef demonstrations, light bites and reserved shopping carts!
VIP Tickets $100 • Limited Quantities Available • Sells out (quickly) each year!
6:30 Admission Shopping Pass
Guests shop throughout the Emile Henry Warehouse from 6:30 to 9pm on the first evening before it's open to the public!
$35
7:30 Admission Shopping Pass
Guests shop throughout the Emile Henry Warehouse from 7:30 to 9pm on the first evening before it's open to the public!
$25 Online or $30 at the Door